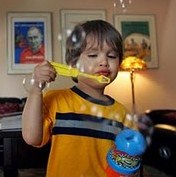 Great news! The California Court of Appeals has reversed a prior ruling (pdf) by the Superior Court of Los Angeles County, and has sustained Andrew Arce's right to a class action lawsuit against Kaiser Permanente. The case is scheduled for a jury trial on March 22, 2010 absent any delays.
Yes, you read that right: a JURY TRIAL, thanks to a prior ruling (pdf) by the lower court denying Kaiser's Motion to Compel Arbitration.
This decision of the Court of Appeals is precedent setting and has been certified for publication. It is a big win against Kaiser. Although we are not yet sure of the impact this case will have on the future rights of other Kaiser victims to have their day in court, it sure can't hurt!
The Arces' attorney, Scott Glovsky, is looking for more parents with letters from Kaiser denying treatment for their children's autism. The more denial letters Mr. Glovsky can collect to present in court, the more likely he will be to prove that Kaiser is refusing to provide necessary services to an entire class of individuals with autism.
The letters can be scanned and emailed, faxed, or mailed the old fashioned way to:
Law Offices of Scott C. Glovsky
225 S. Lake Avenue, Suite 1000
Pasadena, CA 91101
Phone: (626) 243-5598
Fax: (866) 243-2243
Email: sglovsky@scottglovskylaw.com
For background on the case, see our prior posts on the matter.
A complete list of documents related to the Arce v. Kaiser autism class action lawsuit can be found here.